Thursday afternoon, the Twin Cities metropolitan area is flirting with 90 degrees, but some spots in southwestern Minnesota will hit 90 degrees. Temperatures will drop considerably this weekend.
The cold front will move through Minnesota from Thursday night and move slowly from Thursday night through Friday. Parts of northwestern Minnesota are already experiencing scattered showers Thursday afternoon. Areas of additional showers will form in northern Minnesota late Thursday afternoon and spread to central Minnesota Thursday night, with thunderstorms also possible.Anywhere in Minnesota and western Wisconsin Thursday night Showers and a thunderstorm possible late Friday night.
The NWS Storm Prediction Center shows a slight risk of severe weather in northern and central Minnesota and parts of Wisconsin Thursday and Thursday night.
The northwestern side of the Twin Cities metropolitan area is also in a marginal risk area late Thursday night.
Precipitation chance from Friday to Saturday
The front will move very slowly to the southeast from Friday through Saturday, so the chance of showers will persist. A few thunderstorms are also possible. NOAA's North American Mesoscale (NAM) forecast model shows a potential precipitation pattern from noon Friday to 7 p.m. Saturday.
One forecast model sees persistent showers in southeastern Minnesota and parts of Wisconsin on Sunday morning.
Weather updates for Minnesota and western Wisconsin on the Minnesota Public Radio News Network and the MPR News live weather blog.
weekend temperature
The average maximum temperature in the Twin Cities on September 10 is 75 degrees. It may be hard for him to reach 70 degrees in the metropolitan area on Saturday. In many spots, Saturday's high will be in his late 60s.
Some locations in the northwestern half of Minnesota will hit 70 degrees on Sunday afternoon, and others will mostly hit 60 degrees.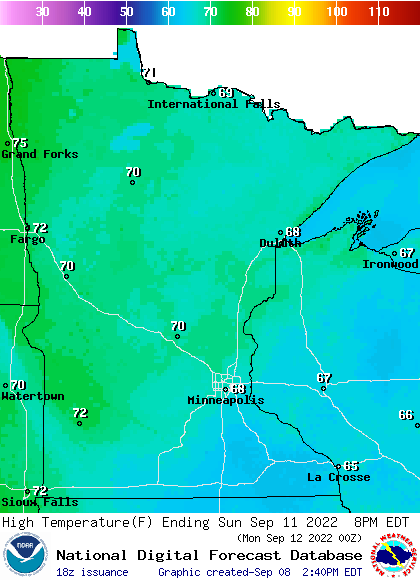 No A/C this weekend.
Programming notes
You can listen to my live weather forecast on MPR News every Saturday and Sunday at 7:35am, 9:35am and 4:39pm.