Summer is officially over, both meteorologically and astronomically, and autumn is finally here. Everyone can pull the "It's Fall Y'all" and "Grateful, Thanksful, Blessed" decorations out of the storage bin. You can put on a warm sweater and fluffy socks and read a book by the fireplace or listen to the rain outside… oh wait. We're not there yet. In fact, even though it's officially fall, the summer weather is still here and is expected to last most of the weekend. More on that later.
One of the biggest things to look out for in summer 2022 was just 0.30 inches of measurable precipitation from June 21st to September 21st (aka astronomical summer). In three months it hadn't rained enough to completely submerge the thumbnail. Look at the following illustration. It shows precipitation for each year since 1998 for this same period.
According to Paine Field's "official" data, 2022 will be the second driest summer on record, with 1998's value of 0.01 inches being the driest. However, upon closer inspection, he was missing 91 days from this total. This means that there may have been other rainy days that were not recorded. Looking at Sea-Tac data for 1998 showing 1.45 inches, KPAE can probably infer that he recorded more than 0.3 inches of precipitation that year, making 2022 his driest year on record. will be ranked to
In fact, for Sea-Tac, 2022 is the driest year on record (0.5 inches total), with data going back to 1945. This is a very astonishing feat. This can be seen in the diagram below.
Not only was it dry, but it was also very warm, sometimes very hot. There were no record highs, but more frequent hotter weather meant average temperatures were higher than in previous years. Also, see the chart below.
This data shows the number of days over various temperature thresholds observed in Painefield in the summer of 2022. Nearly all of these values ​​rank highest on record or tie for first place. This confirms the fact that this summer has been unusually hot.
As we head into the first fall weekend of the year, overall, aside from slightly cooler temperatures, things aren't going to be much different from the previous few weeks.
Friday is likely to be the most 'fall-like' day of the weekend as a weak front hits the region. Minimal, if any, showers are expected in our area. The highs are mostly in his mid-to-late 60s, with the occasional sun peeking out behind a mostly cloudy sky.
Upper ridges begin to form on Saturday. A model depiction of this ridge on Saturday afternoon is shown below.
Saturday and Sunday will see fairly similar weather with partly clear skies. Highs are expected to be in the high 60s to low 70s on both days, with Sunday looking slightly warmer. Similar weather is expected for the first half of next week, with mostly clear skies and highs in his high 60s to low 70s.
I don't know if it will really feel like fall to me until the first good rain event is held. There is uncertainty. Pay close attention to forecasts to get the most accurate and up-to-date information, especially as you head into the stormiest time of the year.
Have a nice weekend!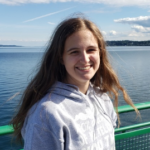 — Kelsey Nelson
Kelsie Nelson is a meteorologist and recent graduate from the University of Washington who grew up in Lynnwood and now lives in Kenmore. After writing her weather blog as an intern for her KOMO News, she discovered her passion for writing about the weather. For more information, see her blog www.wxnoggin.com. She can also follow @kels_wx3 on Twitter. Questions can be sent to Kelsie at kelsie@myedmondsnews.com.