One of the worst parts of the West Coast summer is when smoke can seep into the area, reducing air quality and visibility. This year we have been very lucky in this area and have had very few problems with air quality due to smoke.
See the next visible satellite image from Thursday afternoon.
Can you see all the smoke in North Central Washington and Idaho? You can see the difference between white clouds and gray smoke.
I spent my holiday weekend in Chelan (best place ever) and my parents decided to spend the rest of the week. They reported to me that the smoke was very thick and visibility very poor.
It usually looks like this (with some bonus cool clouds):
Looking at the satellite image above, you can see that the smoke is consistent with Chelan's location. At the moment, air quality is mainly in the 'dangerous' range of the Air Quality Index (AQI), which is the worst category on the scale. You don't need to do much research. Just by looking at the pictures you can see how unhealthy it is.
Thankfully, smoke of that magnitude is not expected in our area, but wind changes will help direct some of the smoke toward us as we head into the weekend.
High pressure starts to build on Friday, which helps keep us warm. Temperatures on Friday are expected to be about 10 degrees warmer than the day before, with a high of around 80 degrees. Warming continues further on Saturday, with highs likely to hit his mid-to-late 80s. With these forecast highs, he could hit a new one-day high on Sept. 10 (he currently has a one-day high of 85 degrees). With this warming, offshore winds will intensify. This contributes both to increased fire hazards in our area and increased smoke/haze that can reduce air quality.
As easterly (that is, east-to-west) winds pick up, warmer (and drier) air from the interior begins to flow into western Washington. As a result, the risk of fire increases. In fact, from Friday through Sunday, most of western Washington has a red flag warning in effect. Take a look at the following diagram from NWS Seattle.
This means that there is a threat of fires in our area. As the graphics suggest, watch out for the "fire trigger" over the weekend.
As mentioned, offshore currents also mean that smoke from existing fires can reach our area. means We also found the air quality to drop at times. Nothing unusual is expected at this time in terms of declining air quality in our area, but fire and smoke forecasts can change very quickly. So keep an eye on your air quality and limit your time outdoors if necessary, especially if you or your loved ones are sensitive to smoke.A great tool to check your current air quality is the Washington Smoke Blog.
A cooler weather trend is expected to start on Sunday as "natural air conditioning" or onshore flow begins. This will also help push away the fumes that have set in over the last few days.The highs are likely still in the mid to high 70s, but definitely a lot better than pushing the 90s. Now it's cooldown! Even though we're technically still in an astronomical summer, it may finally start to feel like fall.
As it continues into September, the likelihood of warmer temperatures will begin to decline. As of September 1st, the KPAE average high temperature is around 71 degrees. By October 1st, this number will drop to about 63 degrees. It might get a little too hot this weekend, but try to enjoy the warm weather (pending air quality, of course). Autumn is in full swing soon, with cooler temperatures, more rain, and colorful leaves are my favourite.
Have a nice weekend.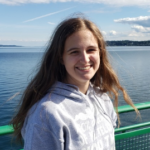 — Kelsey Nelson
Kelsie Nelson is a meteorologist and recent graduate from the University of Washington who grew up in Lynnwood and now lives in Kenmore. After writing her weather blog as an intern for her KOMO News, she discovered her passion for writing about the weather. For more information, see her blog www.wxnoggin.com. She can also follow @kels_wx3 on Twitter. Questions can be sent to Kelsie at kelsie@myedmondsnews.com.