Mourners in New York leave makeshift memorials for Queen Elizabeth
Thousands of miles from Balmoral Castle in Scotland where Queen Elizabeth II took her last breath on Thursday, mourners in New York City gathered outside the U.K. consulate to add flowers, pictures, and wreaths to the growing memorials made in the queen's honor on Friday.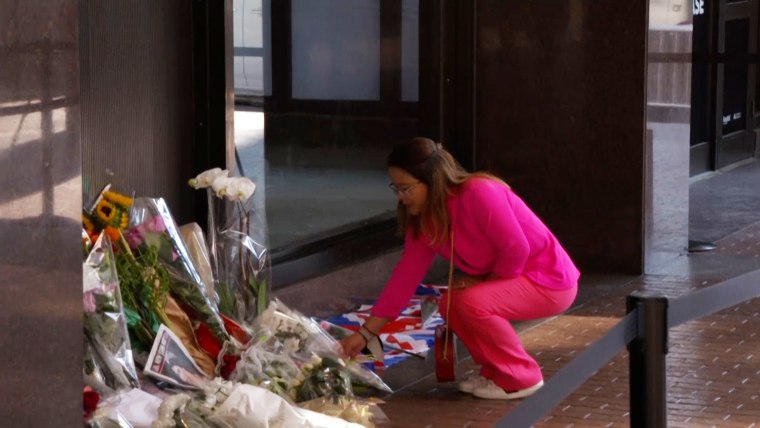 Inside the embassy lobby, visitors are encouraged to sign a book of condolences.
"I'm from Long Island. I took the train out to Manhattan here this morning," Matthew Kogut, a New Yorker, told Associated Press. "The queen has always been an influence in a lot of people's lives, she represents stability, and she's the only queen I've known my entire life, and with her loss, I felt I needed to come (to) pay my respects to her and her family."
Jennie Dighton, a U.K resident, happened to fly to New York on vacation the day of the queen's death. She told the Associated Press she visited the consulate to mourn.
"I wanted to come and say goodbye to her, and I can't do it at home, so the British Embassy seemed the next best place to do it," Dighton explained.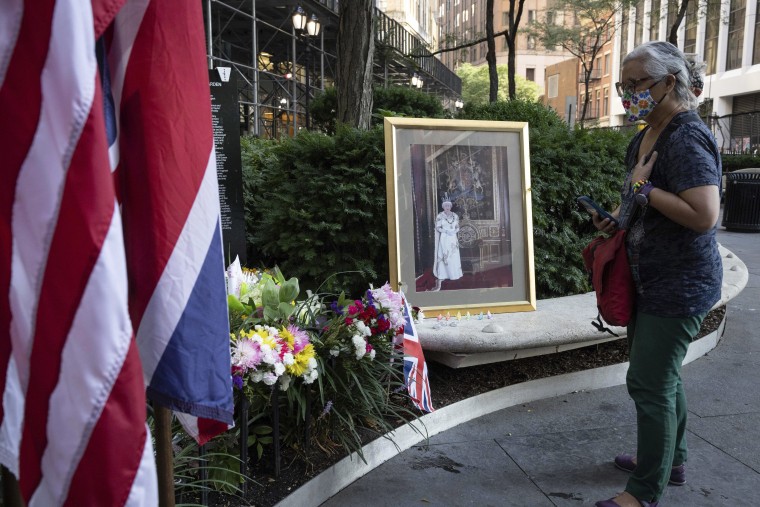 People also stopped to pay their respects at the Queen Elizabeth II 9/11 Garden in the financial district. The small 0.12 acre park was built in honor of the U.K. residents who died in the Sept. 11, 2001 attack and named after the late queen.
King Charles holds first audience with Prime Minister Liz Truss
King Charles III held his first audience with the United Kingdom's newly appointed prime minister, Liz Truss, as part of his first full day of duties as sovereign.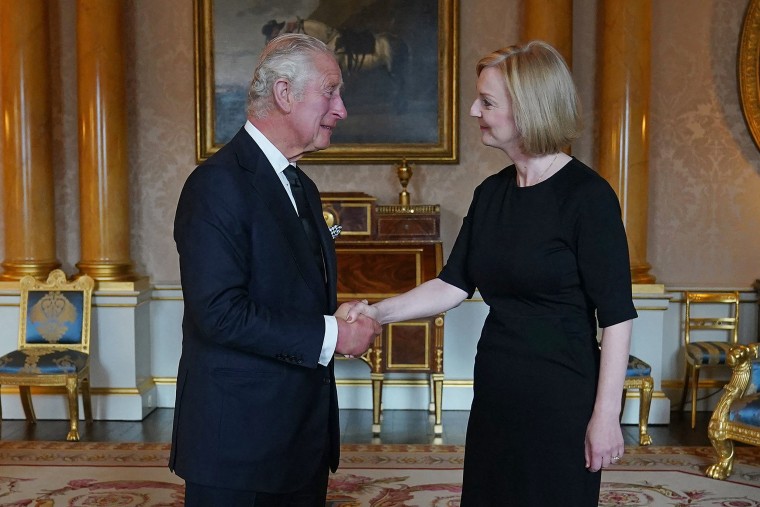 The king met Truss in London at Buckingham Palace. During their interaction, Truss offered the king her sincerest condolences, and he expressed his appreciation for the public's support during his period of mourning.
"It's been so touching, this afternoon when we arrived, all these people had come to give their condolences, put flowers (around)," he shared.
Later he remarked, "It's the moment I've been dreading as I know a lot of people have, but you try to keep everything going."
Will Queen Elizabeth be replaced by King Charles on British currency?
With King Charles III as the new reigning British monarch, questions have emerged about what his mother's death means for the country's banknotes and coins.
In 1960, Queen Elizabeth II became the first British monarch to appear on Bank of England paper notes.
Now, in a statement issued by the Bank of England on Thursday, the United Kingdom's central bank reflected on her legacy and touched on the changes ahead.
"As the first monarch to feature on Bank of England banknotes, the Queen's iconic portraits are synonymous with some of the most important work we do," the statement explained. "Current banknotes featuring the image of Her Majesty The Queen will continue to be legal tender. A further announcement regarding existing Bank of England banknotes will be made once the period of mourning has been observed."
Read more about the changes to the U.K.'s currency below.
How Queen Elizabeth's death impacts the royal family's line of succession
Queen Elizabeth II's death established a new hierarchy and triggered a series of perennial traditions and protocols.
In addition to King Charles III's automatic ascension to the throne, various members of the royal family have now climbed up the royal ranks and obtained new titles. 
Charles' wife, Camilla, is now known as the queen consort. Prince William, his son and heir, and wife Catherine have been named the Prince and Princess of Wales. The emergence of Charles as sovereign means that even the youngest members of the British royal family, such as his grandchildren Prince George to his grandaughter Lilibet, daughter of Prince Harry and Meghan, the Duke and Duchess of Sussex, will have new titles, too.
Check out the changes below.
Charles ends his speech by thanking his mother
In his first address, Charles expressed a deep grief at the loss of his mother. He ended the address by thanking her.
"To my darling Mama, as you begin your last great journey to join my dear late Papa, I want simply to say this: thank you. Thank you for your love and devotion to our family and to the family of nations you have served so diligently all these years. May 'flights of Angels sing thee to thy rest,'" he said.
Charles expresses his 'love' for Harry and Meghan
In his first address as king, Charles gave a message to Prince Harry, his youngest son and Meghan, Duchess of Sussex. Harry and Meghan stepped back from their duties as senior royals in 2020 and now live in California.
"I want also to express my love for Harry and Megan, as they continue to build their lives overseas," Charles said.
King Charles reveals Prince William and Kate's new titles
King Charles is passing on his title to his eldest son and his wife. Prince William and Catherine, Duke and Duchess of Cambridge and Cornwall, will now also be the Prince and Princess of Wales.
Previously, William's mother Diana was known as the Princess of Wales.
Read more here.
Charles speaks about Camilla's 'steadfast devotion'
Camilla's new title is queen consort, which Charles spoke about in his new address.
"I know she will bring to the demands of her new role. The steadfast devotion to duty, on which I have come to rely on so much," he said.
King Charles III addresses the nation
King Charles III gave a speech from the blue drawing room at Buckingham Palace at 1 p.m. ET.
Charles first remembered the queen as a mother. "We owe her the most heartfelt debt any family can owe to their mother for her love, affection, guidance, understanding and example," he said.
Then remembered her as a sovereign, admiring her "abiding love of tradition" and "fearless embrace of progress."
"And as every member of my family can testify, to combine these qualities with warmth, humor, and an unerring ability always to see the best in people," he said.
Charles vowed to take on his mother's mantle as king. "That promise of lifelong service I renew to you today," he said.
"I too now solemnly pledge myself through the remaining time God grants me to uphold the constitutional principal on the heart of our nation," he said.
He went on to speak about Camilla, queen consort, and Prince William and Prince Harry, before finally thanking his mother for her service.
"Thank you for your love and devotion to our family and to the family of nations you have served so diligently all these years. May 'flights of Angels sing thee to thy rest,'" he said.
Former prime minister Tony Blair recalls working with Queen Elizabeth II
Former P.M. Tony Blair spoke to Christiane Amanpour on CNN, recalling his time working with the queen.
"She was one person in who you could have complete confidence, you could say whatever you needed to say, ask whatever you wanted to ask," he said.
The Queen worked with a total of 15 prime ministers, ending with Liz Truss, whom she met on Tuesday. Blair said the two often spoke about the responsibility and mechanics of the position.
"I had many conversations with her, for example, about Winston Churchill … when I became Prime Minister, one of the first things she said to me is, 'My first Prime Minister was Winston and that was before you were born.' By the time I became Prime Minister, she had this enormous experience of government, of politics and its broader sense.
"She had huge insight about the country. One of the things that she was exceptional at is keeping her finger on the pulse of the people. She loved the people, she served them, but she was never complacent about the need always to understand them," Blair said.
Blair also said he had a "lot of confidence" in King Charles III.
Prime Minister Liz Truss arrives at Buckingham Palace
In her first week as prime minister, Liz Truss met with both Queen Elizabeth II and now, King Charles III.
Truss arrived at Buckingham Palace on Friday at 4:35 p.m., U.K. time, to speak with the new king ahead of the TV broadcast of his first address to the nation.
The schedule for the King's ascension and more
The official period of mourning in the U.K. is underway, with many scheduled events. Here's what to look out for, beginning Sept. 9:
In the coming days, Queen Elizabeth II's coffin will be transported to London for here are a few brief highlights.
The king and queen consort will visit all four countries of the U.K., traveling to Scotland, Wales and Northern Ireland.
Queen Elizabeth II's coffin will arrive to Buckingham Palace, then will be moved from Buckingham Palace to the Palace of Westminster in a gun carriage procession.
Queen Elizabeth's funeral will take place at Westminster Abbey. She will be buried at the King George VI Memorial Chapel at Windsor Castle, alongside her parents, husband and sister.
President Xi Jinping sends message of condolence
President Xi Jinping sent a to King Charles III expressing sympathy over the death of his mother and the queen. His message pointed out that Elizabeth was the first British monarch to visit China, and said that he "stands ready to work with King Charles III."
President Macron delivers a tribute to the queen: 'We all feel an emptiness'
French president Emmanuel Macron addressed the people of the U.K. and the Commonwealth in a speech given mostly in English.
"Today, we are so sad. (The Queen's) wisdom and empathy have helped us all to steer a path through the historic ups and downs of the last seven decades. With her passing, we all feel an emptiness. Her rare and powerful words, her unwavering dignity made her the constant symbol of the United Kingdom," he said.
King Charles III greets crowds outside of Buckingham Palace
Upon arriving in London this afternoon, King Charles III greeted crowds of mourners outside of Buckingham Palace. Standing in a black suit, Charles shook hands with people. People began to gather outside the palace yesterday upon the news that the queen's doctors were "concerned" for her health.
Charles automatically became king upon his mother's death but will officially become king following a formal ceremony today. He is also expected to address the nation.
Charles arrives in London and begins his reign
King Charles III touched down in London after spending the day in Scotland yesterday, where his mother Queen Elizabeth II took his final breaths.
Charles and Camilla, queen consort, departed Balmoral Castle earlier today.
During his first full day as king, Charles is expected to meet with Prime Minister Liz Truss and address the nation in mourning.
At 73, Charles is the oldest person to ever assume the British throne.
Charles to be formally named King in a historic ceremony
The queen's eldest child, Charles, automatically became king upon the queen's death yesterday.
Today, the formal accession ceremony takes place. King Charles III will be proclaimed king the Accession Council, made up of members of the Privy Council. The BBC explains that the Privy Council is comprised of senior MPs, peers, senior civil servants, Commonwealth high commissioners, and the Lord Mayor of London.
The historic ceremony has multiple parts. The ceremony begins with a meeting in which the council, without King Charles III present, will proclaim the Sovereign.
Then, Charles will join the Privy Council in the second part of the ceremony to make a personal declaration and then an oath that unites the churches of England and Scotland, a tradition dating back to the 18th century.
The sporting world pays tribute to the queen
Last night, the sporting world commemorated the queen. A football game between the Buffalo Bills and the Los Angeles Rams at SoFi Stadium began with a moment of silence.
And over at Yankee Stadium in the Bronx, a photo of Queen Elizabeth II was projected onto the scoreboard, starting a moment of silence. The Phillies showed her picture in the baseball stadium, too.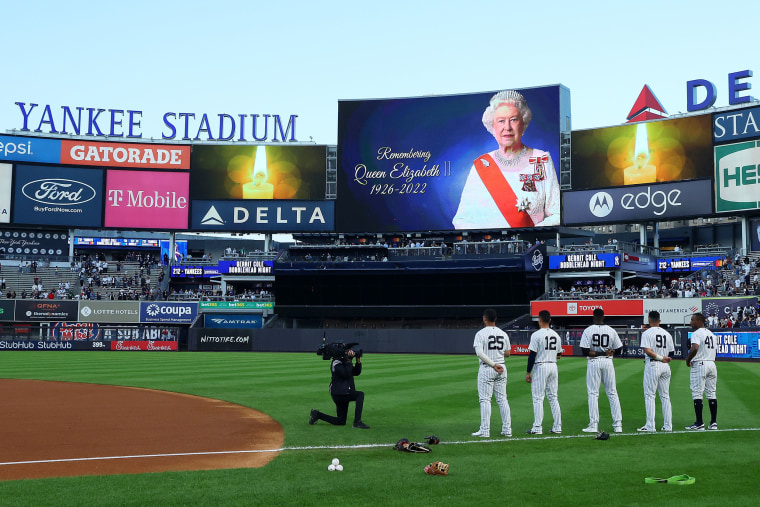 Harry Styles honors Queen Elizabeth II during a concert at Madison Square Garden
Harry Styles encouraged audiences at one of the concerts of his 15-night residency at Madison Square Garden to join him in a "round of applause" for the queen's "70 years of service."
The U.K.'s history of colonialism is examined in the wake of Elizabeth's death
The news of Queen Elizabeth's death was met with tributes from other world leaders, celebrities and civilians.
The news was also a springboard for discourse about the U.K.'s long history as a colonial power and how the Queen, who ruled for 70 years, intersected with those policies as a symbol of the empire.
Read more here.
President Joe Biden to attend Queen Elizabeth II's funeral
Speaking to Savannah Guthrie on NBC this morning, a senior White House official confirmed President Biden will attend the Queen's funeral.
Queen consort vs. queen: Camilla's new title, explained
Royal title changes abound in the wake of Queen Elizabeth II's death. Prince Charles chose the regnal name King Charles III, though he could have selected from any of his middle names. Prince William and Kate Middleton are now the Duke and Duchess of Cornwall and Cambridge.
And Camilla, Charles' wife, has a new title of her own: Queen Consort.
NBC royal commentator Daisy McAndrew explained the difference between a "queen" an a "queen consort" to TODAY, saying a "queen consort is a woman who married a man who is king," and a "queen is a woman who is born to be queen and is head of state — not the wife of a monarch."
In February, Queen Elizabeth II expressed her "sincere wish" that Camilla would have the title queen consort.
She said in a message to mark the 70th anniversary of her accession to the throne, "I would like to express my thanks to you all for your support. I remain eternally grateful for, and humbled by, the loyalty and affection that you continue to give me. And when, in the fullness of time, my son Charles becomes King, I know you will give him and his wife Camilla the same support that you have given me; and it is my sincere wish that, when that time comes, Camilla will be known as Queen Consort as she continues her own loyal service."
Harry and Meghan to remain in the U.K.
Harry and Meghan, the Duke and Duchess of Sussex, returned to Europe earlier this month for a series of engagements. They gave up royal roles in 2020.
They were expected to return to California but now will stay in the U.K., a Sussex spokesman confirms.
The bells toll at Westminster, churches around the country
Those in the U.K. may hear something in the air starting around noon (or 7 a.m. ET).
The bells at Westminster Abbey, St. Paul's Cathedral, Windsor Castle and churches across the country are set to toll for one hour. And we know for whom the bell tolls.
Westminster Abbey's official Twitter account explained the significance of the cadence: The tenor bell, the "largest of the Abbey's ten bells … traditionally reserved for a member of the royal family," is tolling once every minute.
King Charles III departs from Balmoral, expected to give an address
King Charles III's duties of king have begun. He and the queen consort, the new, official title of Camilla, have left Balmoral Castle to travel to London. Charles is expected to give a televised address later today.
The new king will also meet with Prime Minister Liz Truss.