Central African rainforests are hotspots for harvesting tropical timber, which is in high demand from parts of Southeast Asia and China. TRAFFIC's ongoing area of ​​work, currently supported by NORAD NICFI, focuses on protecting endangered tree species from illegal logging and unsustainable trade. Traffic interventions across the entire supply chain, from sources in the Congo Basin to consumers in Asia, make sense. Done well, it can help reduce the impact on deforestation, illegal logging, and associated biodiversity loss, and reduce carbon capture.
The government emphasizes sustainable forest management and is committed to the EU FLEGT VPA program, harvesting and selling timber through volunteer partnership agreements. This paves the way for Indigenous Peoples and Local Communities (IPLCs) to source legal timber from their community forestry operations. "
Dennis Mahonhall, Director of the Traffic Office in Central Africa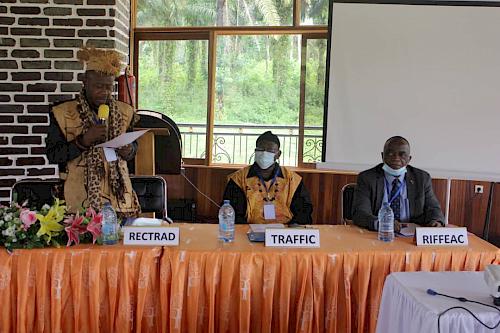 "TRAFFIC is working with local partner ReCTRAD to2 and reference3helps IPLC meet legal requirements for harvesting and supplying timber from forests. This is done through capacity building and awareness raising on IPLC rights, legal tenure, access and use rights to forest products. "
60-70% of the world's timber trade is illegal. TRAFFIC's efforts to tackle root causes from source to supply, and involve his IPLC in the process, have had definite resonance. "I am very satisfied with TRAFFIC's activities and IPLC's involvement in forest management. This is centered around the dynamics driven by the Regional Council of the Southern Region on legal timber and by the NORAD project to have a real impact on the daily lives of the community. We are confident that the actions being taken will be consolidated," said His Majesty Mbondo Bruno of ReCTRAD.
At a global level, it is also important to truly understand and value the role that companies play in purchasing legal and sustainably managed timber. "Otherwise, illegal logging is degrading forests, impacting ecosystems and the species that live in them," adds Cheng Hin Keong, leader of TRAFFIC's forest management and trade timber trade program. rice field.
Illegal logging creates opportunities for forest encroachment, opens doors for illegal diversion, and affects local livelihoods. Therefore, in the Congo Basin, our efforts to provide the tools and mechanisms for companies to purchase and verify legal timber, including from the IPLC, will continue to support the very existence of rainforests in the future. is a crucial piece in this global puzzle of ensuring "
Chen Hin Keong, TRAFFIC's forest management and trade program leader