Lo Hsin-chen, Jonathan Chin / With staff reporters and staff writers
At an event marking the 35th anniversary of the establishment of the Taiwan Indigenous Peoples Cultural Park in Majia, Pingtung County on Friday, Prime Minister Su Tsing-chang said Taiwan's indigenous peoples are the true owners of the land.
The title of this event is 'Kemasi Maza' which means 'starting here' in Paiwan language.
As a member of the late Taiwan Provincial Advisory Committee, Su said he attended the park's opening ceremony and witnessed the country's historic wrongs being righted.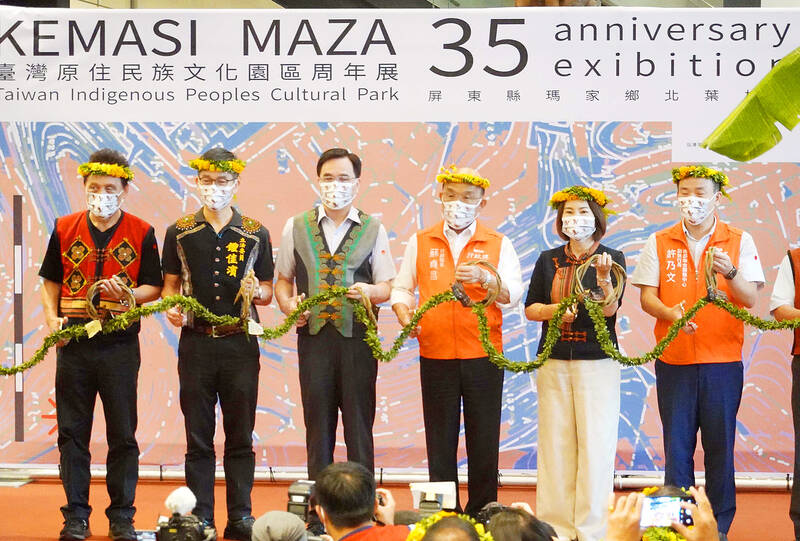 Photo: CNA
When then-President Lee Teng-hui became the first country leader to use the term "indigenous people" instead of "mountain compatriots" at the opening ceremony, Su said he initiated the process of equality for indigenous communities.
The constitution was then amended to require the use of the term "indigenous people" in official affairs, and President Tsai Ing-wen said she apologized to indigenous peoples on behalf of Taiwan in 2016.
Su said her daughter married into an Amis family in Taitung County, and her granddaughter was only given an Amis name.
Taiwan will protect the cultural heritage of indigenous peoples, ensure that they become masters of their land, and not generate tourism revenue, he said.
Indigenous Peoples Council Minister Icyang Parod said culture must be nurtured at the grassroots before it can be developed or internationalized.
Icyang said he was initially opposed to cultural parks because he feared they would help commercialize and stereotype indigenous cultures, saying he was opposed to indigenous peoples without protecting their linguistic rights. It was a particular problem for him at the time, he added.
However, his concerns were allayed when the Tsai administration implemented the Indigenous Language Development Law (Indigenous Language Development Law), which recognized the right of Taiwanese indigenous peoples to use their native language.
The Executive Yuan set up a language development forum led by Su in January, said Icyang.
The Cabinet announced a TWD 30 billion (US$976.9 million) budget covering the next five years to protect indigenous languages, and increased the Council's budget from TWD 500,000 million to TWD 1.3 billion. , he said.
A park renovation plan to improve facilities and fund the reconstruction of 25 traditional-style buildings on campus is also being implemented thanks to a special budget approved by the Executive Yuan in April. he added.
Comments are moderated. Please keep your comments relevant to the article. Statements containing abusive and obscene language, personal attacks of any kind or promotions will be removed and users will be banned.The final decision is at the discretion of Taipei Times.