As record hunger sweeps the globe, marginalized and marginalized indigenous communities throughout history continue to be disproportionately affected by food insecurity and malnutrition.
But the wealth of indigenous knowledge, when harnessed, can provide valuable solutions for building resilience, food security and sustainability.
Deborah Suc, an agronomist with the World Food Program (WFP) in Guatemala, knows both sides of the equation well. She is a member of her community, San Cristobal She Pocomchi in Verapaz, working to empower farmers to meet the challenges of climate change and to revive and leverage traditional know-how.
"Now there are laws to protect the environment, but we have been doing it for a long time."
"Knowledge is passed down from generation to generation, but unfortunately some of it is lost, such as how to use natural fertilizers," says Suc.
Lured by chemical advertisements, indigenous farmers stopped using traditional methods. "This is good in the short term. Over time, the soil will degrade, which will adversely affect yields," he explains Suc. Chemical fertilizers are also expensive and the economic downturn has made them out of reach for many.
80% of San Cristobal's people are indigenous. Most speak Pokomchi, but some of the 102 communities that make up the municipality speak other languages, such as Kechi and Achi.
With an average poverty rate of 79% for indigenous peoples in Guatemala and 40% living in extreme poverty, communities have little or no access to technology and resources.
With the help of Suc, WFP is helping people rediscover and make the most of their traditional practices.
"We're not giving the community new knowledge. We're giving scientific names to things they already knew," she says.
One good example is the traditional Milpa A system for seeding corn, beans and squash together. Also known as intercropping, this technique allows for higher yields.
"For centuries, our communities have had to adapt to change, and this is the foundation of resilience."
"People here have been doing this for thousands of years, and now we know there is a scientific basis for this. For example, legumes fix nitrogen in the soil and have fertilizing effects. explains Suc. "When you grow your own corn, you need fertilizer."
Based on a deep respect for nature and a symbiotic relationship with it, indigenous peoples view of the universeor worldview, is also an important factor in sustaining the environment and using resources sustainably.
The Suc has traditionally held that tree felling is limited to once every five years per family, or once a year if someone gets married and needs to build a house, and requires permission from the local community. rules are mentioned. "Now we have laws to protect the environment," she says.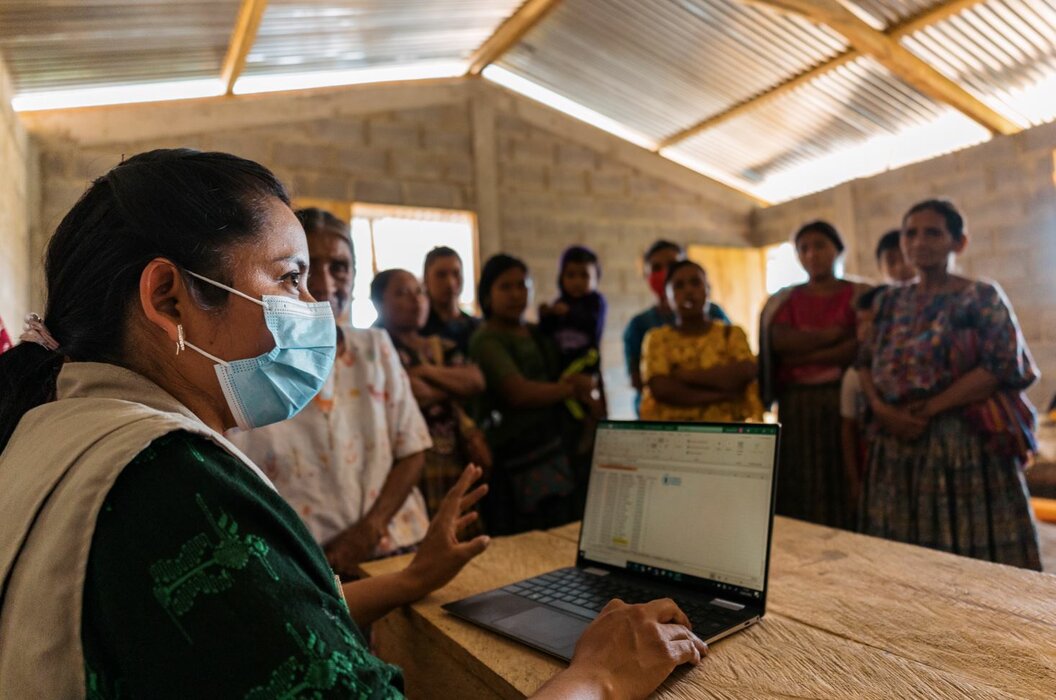 However, indigenous communities are particularly vulnerable to extreme weather events due to their proximity to the natural environments on which their livelihoods depend.
"The impacts of climate change are hitting us hard," says Suc.
In November 2020, Hurricanes Eta and Iota hit Central America, leaving a devastation in San Cristobal. People lost their livestock, fields were devastated, and infrastructure destroyed. WFP is now helping people rebuild their livelihoods.
"We consult with elders, community development committees and women's committees. We listen to all voices to ensure that our projects reflect what our communities really need and want," he said. Suc explains. Her inside knowledge of the culture helps ensure that plans are made with respect for community consultation and decision-making mechanisms. Her initiatives include water collection and irrigation systems, and the restoration of her community's infrastructure.
"For centuries, our communities have had to adapt to change, and this is the cornerstone of resilience," she adds.
---
For Suc, agronomy is a way to help communities thrive. But it wasn't her first love.
"As a child, I decided that I wanted to be a doctor. Sitting around family meals and listening to stories of the horror and suffering of the civil war made me realize that I had to do something to help others. The only way I thought I could do it was to study medicine," she said. she says.
However, this requires a trip to the capital, which is too expensive. She was given the opportunity to go to college, which was rare for girls from large Indigenous families.
"I chose agriculture because some subjects were the same as medicine, but at some point I wished I could move on to other fields," she says. That never happened, but eventually she began to realize that farming could be a tool to improve people's lives.
"I could say that I didn't realize my dream, but working for WFP has made me come full circle and help the community the way I wanted to," she says.
"For me, not studying was not an option. I thought that getting an education would be a way to overcome the barriers and discrimination we faced." I recall early experiences of discrimination, such as being treated differently than other parents. "What can I do to make sure she's treated like everyone else?" she asked herself. I thought it was because of her grades, she thought it was her fault, but it wasn't. But she didn't see it then. "
Despite being ridiculed for her background, graduating college made Suc stronger. Now, she says, she has no time to worry about how people see her. Instead, she raises her voice to defend others in the face of discrimination."I lost the shyness of standing up for others," she says.
With Pokomchi's first woman earning a college degree in agriculture, Suc hopes to set an example for others in a culture that is still traditionally male-dominated. "My message to other Indigenous women and girls is that if I've done it, so can you," she says.
The role of women in preserving and transmitting traditional knowledge and culture is the theme of this year's International Day of the World's Indigenous Peoples. However, according to Suc, this is still largely unrecognized. "Women are seed keepers. They are the backbone of families and communities," she adds. "They are the first to wake up and the last to go to bed at night to meet the needs of their families and to enable the men to work in the fields, but their role and hard work are largely invisible. "
Learn more about WFP's work in Guatemala