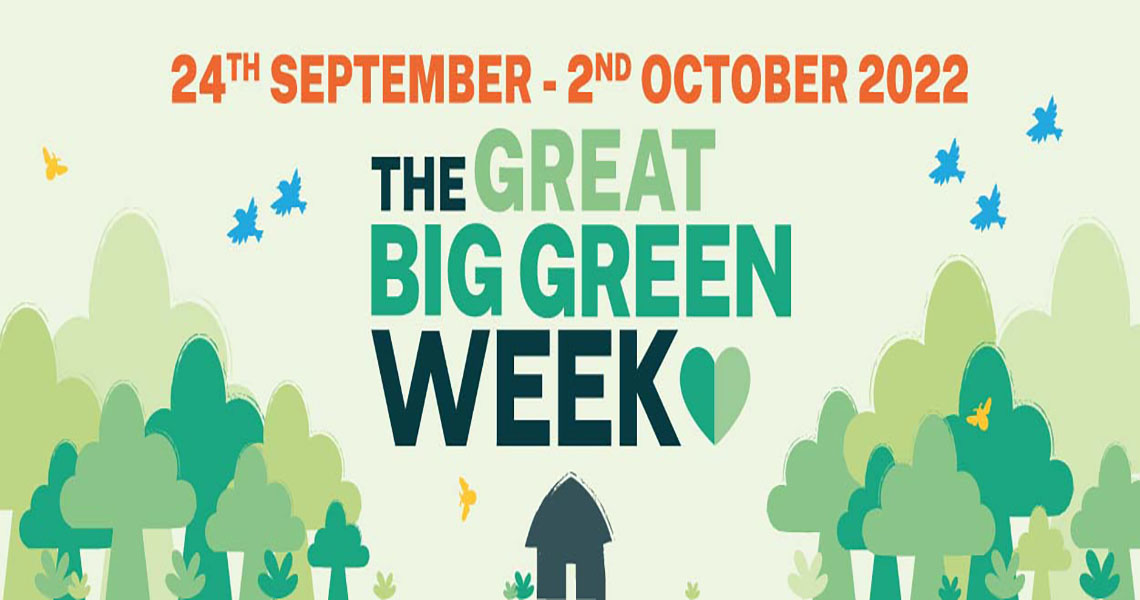 Publication date: September 23, 2022
Redbridge Council is celebrating Great Big Green Week with a series of free, green-themed workshops and activities to help locals adopt greener choices as part of their daily lives. increase.
Great Big Green Week (GBGW), taking place from 24th September to 2nd October, is the UK's largest celebration of community action in support of tackling climate change.
In support of the national campaign, Redbridge Council's Neighborhood Team is offering a free, community-based workshop on composting at home. It also reduces food waste in the ward, helps tackle climate change, and provides a way to keep gardens green.
Did you know that composting at home can reduce waste by at least 30%? That's good news for the environment.
During the workshop you will learn how to set up a compost bin, what can and cannot be put in it, and how to use compost. Reservations are mandatory and spaces are limited, so book early via www.eventbrite.co.uk/o/lb-redbridge-neighbourhood-team-32312425677.
Workshop details:
Saturday, September 24, 1:15pm-2:15pm 52nd EFS Scout Hut, South Woodford
Tuesday, September 27, 5:15pm-6:15pm The Square Garden, Bethell Avenue, Ilford
Wednesday, September 28, 5:15pm-6:15pm, Wildlife Centre, South Park, Ilford
Thursday, September 29, 5:15pm-6:15pm, Christchurch Green Park Entrance, Wanstead Place
Saturday, October 1, 10:15am-11:15am, Christchurch Green Park Entrance, Wanstead Place
Offering special compost bins for GBGW: Regular size 220L black composting bins are available on the Get Composting website (https://getcomposting.com/) at a 40% discount during GBGW and until stock lasts.
As part of GBGW visitors at the Wanstead Festival on Sunday, October 2nd, you can also enjoy a variety of eco-friendly activities on Wanstead High Street. Transform and support local people to adopt more sustainable travel and eco-friendly lifestyles.
Activities on Wanstead High Street include:
Electric car – Tesla experience: Sit back and experience some of Tesla's exciting features. Find out more about electric vehicles, how electric vehicles can save you money, and Redbridge's expanding network of electric vehicle charging points. Greener and more sustainable transportation can reduce air pollution and contribute to tackling the climate crisis. That's why Redbridge is expanding its network of electric vehicle charging points in the district, making it easier for locals to switch to electricity and improve local air quality. process.
Discover how reducing waste saves money and helps the planet. The City Council's Neighborhood Team provides information and advice on how to reduce waste wherever possible and recycle what's left over. Reducing waste not only saves you money, but it's good for the environment, so don't miss a chat with our team.
play street: Experience the fun of Play Street and how it works in your neighborhood. The initiative allows residents to close streets for a few hours each month to allow neighbors, children and families to play more safely and bring the community together. Festival Play Street offers family-friendly games and activities.
Cycle zone: Try out a range of novelty bikes on the cycle circuit on the high street. Cycling not only keeps you healthy, but also has a positive impact on the environment. Every time a car trip is replaced by a bike trip, it not only helps address the climate crisis, but also helps improve local air quality for a cleaner, greener Redbridge. Dr Bike also offers free safety checks, bike tweaks and repairs, so don't forget to bring your bike.
Joe Blackman, Minister for Environment and Civil Pride, said: "It is important that we work together as a community to tackle the climate emergency we are facing. By taking action to address the causes and impacts of climate change, we can create a cleaner, greener Redbridge, not just for us today, but for generations to come. "
Redbridge's Climate Change Action Plan outlines the steps the city is taking to reduce its own carbon footprint by addressing emissions from city-owned buildings and vehicles, and the measures it is taking to tackle climate change. Details the steps the city is taking to support communities across the borough. For more information, including how to get involved, visit https://www.redbridge.gov.uk/about-the-council/climate-change/.