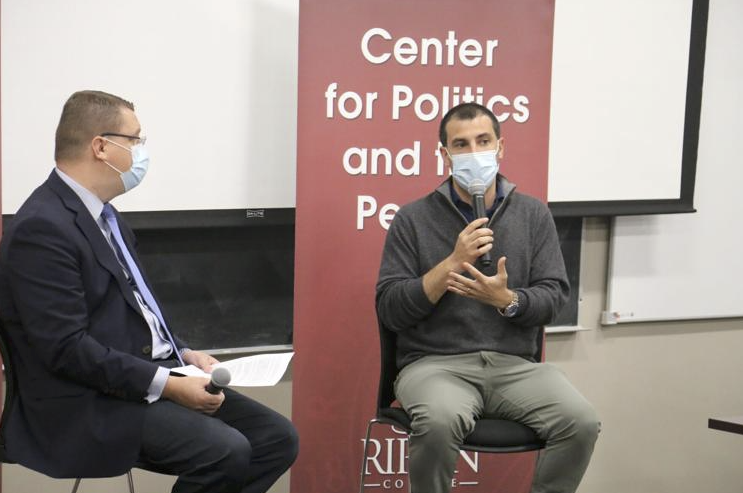 question:
What to know about Ripon College Center for Politics and People's returning to all in-person events this fall?
answer:
The Center for Politics and People at Ripon College has four in-person on-campus events scheduled for the fall semester. Each event will feature experts on topics ranging from local government to climate change.
While the center transitioned to hosting webinars early in the COVID-19 pandemic, Henrik Schatzinger, co-director of the Center of Politics and the People, said people on and off campus were experiencing "Zoom fatigue." said there is.
"Whereas virtual events can experience dropped communications and technical errors, in-person events allow attendees to meet with subject matter experts and experience the energy of a live event. he said. "In-person events generally allow me to read the room better and adjust my behavior.
"This can be more difficult than a virtual event. Overall, I think speaking face-to-face is more effective than speaking on webcam, and people have more fun."
This year's series of events focuses on local government, midterm elections, voting rights and climate change.
In election years, the center will not only try to hold events that help contextualize the results, but also look for relevant topics that are in the news when creating other events, Schatzinger said. increase.
In addition, the center is also considering hosting book talks with authors of university-published books and is looking to host at least one local or regionally focused event.
The first event of the semester is Local Politics: Challenges and Opportunities. It will be held on Wednesday, September 28th at 6:30 pm and will include a panel discussion with three community officials.
The event will discuss issues such as economic development, housing and budget challenges.
"One of the goals of this program is to identify the similarities and differences between cities and counties in how they approach issues, where decision makers feel they are most responsive. We will learn about the extent to which elected officials feel they have more control over governance, and we will examine how current approaches are working," said Schatzinger.
The second event is "Voting Rights for Native Americans: Today's Challenges Reflect Past Challenges." It's she's scheduled for Tuesday, Oct. 18 at 6:30 p.m. and will be co-hosted with the League of Women Voters of the Ripon Area.
During the event, Renee Gralevitz will discuss strategies for expanding Native American voting in Wisconsin on a panel moderated by Ellen Sorensen, President of the Ripon Area Women's Voters League.
The third event is "Planet in Danger: Humanity's 4 Biggest Challenges and How to Overcome Them". Set for Thursday, October 27th at 6:30pm, it's his book his talk about the novel of the same name with his Professor Michael Bess at Vanderbilt University.
"This book, written by an award-winning historian of science and technology, talks about what he considers to be the four great dangers facing humanity," said Schatzinger. "He will talk about some of the solutions that have been tried and why they have not worked so far.
The final program for the fall semester is "After the Election: Now What?" Scheduled for Thursday, November 17, at 6:30 p.m., a panel discussion will analyze state and national election results and explore the outlook for 2023.

The event was attended by Founder and Editor-in-Chief of The Bulwark Charlie Sykes, a news and opinion website, Jessie Opoien, Head of the Capitol Bureau at The Capital Times, and Emilee Fannon, Politics and State Government Correspondent for CBS 58 Milwaukee. To do.
On the other hand, there is one event confirmed so far in the spring semester. "Grudge Politics: Seven Years Later". It's set for Thursday, February 9th at 4:30pm
The event will be the latest in a discussion with the book's author, Kathy Kramer, a professor of political science at the University of Wisconsin-Madison, on the politics of rural Wisconsin's grudge.
Kramer's book, The Politics of Anger, was published in 2016, but Schatzinger said the topic is more relevant today as American politics becomes more polarized.
In addition to hosting the event, the Center for Politics and the People worked with Ripon College President Victoria Folse to help make it easier for students to vote this November.
Schatzinger and Fors are partnering with the initiative "Why Bother Wisconsin?" The purpose is to collect student votes.
"We are not canceling classes, but we are discussing ways to remove barriers for students to vote in the November election," Folse said. "Henrik and I talk about young Republicans and young Democrats and how to get the center involved in civic activism."
Schatzinger has been encouraged by his support of Folse's Center for Politics and the People.
"I am very pleased that the university president is actively involved and interested in supporting the center's mission," he said. She said she would work on developing a strategy.She is investing in the center."
What this means:
Schatzinger added that politics and the people's mission remain important to the wider Ripon community, which is not immune to the nationwide trend of politicizing non-controversial issues and engaging in heated debates.
He said it's easy to lose sight of the facts when an issue is politicized. As such, the Center aims to provide a platform for everyone to express their opinions and ask questions in an open and engaging space.
"We are not trying to eliminate perspectives. At the same time, we strongly advocate reasoning and logic rather than emotion, pointing and arguing," said Schatzinger. "I think many solutions require a pragmatic approach, so we try to contribute common sense solutions and an exchange of ideas."
Submission method:
If you have any questions, the Commonwealth has the answers. Please send your question, name and contact information to:
Post: 303 Watson Street, Ripon WI 54971, PO Box 262, Ripon WI 54971
Email: news@riponpress.com