To foster a sense of community among Indigenous students and their families, the Avon Maitland District School Board hosted an end of summer feast on Sunday afternoon at the Broadhagen Community Center.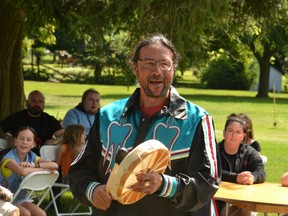 Article content
First Nation, Métis and Inuit students from across the Avon Maitland District School Board gathered in West Perth late summer on Sunday to strengthen communities and share indigenous knowledge, culture and history .
Article content
Hosted by the School Board, the feast was held at the Broadhagen Community Center and featured a lunch catered by Stratford's Howling Moon Catering and guest speakers from the First Nations.
Alicia Park, Indigenous Student Advisor for the School Board, said: "I am really excited that we are working towards this opportunity to rebuild relationships because I think it is huge, especially when you think about the education system and indigenous peoples. is a big part of why we are here today.
"This is the first stepping stone and we hope to continue this work in the future."
Article content
The event was intended to remove the stigma attached to students who self-identify as Indigenous throughout the school, but the hundreds of Indigenous students who are part of the Huron and Perth school communities and It also aims to raise awareness that the family is real. county.
"We don't always know we're here," said Park. "So being able to create that feeling of 'you're being watched, you're being heard, and you're surrounded by people just like you' has played a big role."
Last year's hires, Park, Indigenous Student Support Advisor Melissa Stevens, and Chief Knowledge Keeper Kristin Dennis (who was also one of the Feast's guest speakers) recognized the unique needs of Indigenous students and helped them, as well as , imparting indigenous knowledge, culture and history to students of all races.
Article content
"We foster knowledge sharing, feel included, and build those relationships," Stevens said. "It's been less than a year, and it seems like a year, but we've laid the groundwork. You go to school, you email the principal and say, 'Hey, your school has (Indigenous) It looks like there are some students who have been identified. is. "
From helping indigenous high school students find information about scholarships and get status cards, Stevens and Park want indigenous high school students to know about scholarships and school boards. looking for them
Article content
A survivor of the 60's Scoop, aka "Fast Moving Cloud" in Ojibwe, Denise serves as the Chief Knowledge Manager on the School Board, teaching all students about Indigenous culture and history at the earliest possible age. said he was working on it. Fostering the care and understanding that communities need to thrive.
"My duty as an indigenous person is to go to all the schools and teach different grades," Denise said. "Last year we taught about the indigenous horses of North America. When we started taking the children out of the reserve and into boarding schools, they started shooting the horses because we didn't put the horses in the pens. , they called them nuisances.The horses were free."
Article content
…So we actually bring horses to school and give kids a chance to learn about horses.A horse is…about as tall as a pony, but from a distance it looks like a full size. A horse…but actually the most gentle horse I've ever met. "
Over the past year, Denise has also overseen the introduction of the traditional medicine wheel into each school. Because the medicine wheel's colors—red, black, white, and yellow—represent what the indigenous people see as his four races, Dennis said its teaching at school is a way of life for all students. It aims to foster a sense of inclusivity and belonging.
"So anything about indigenous peoples, at the children's level, I try to teach them to understand their culture and be proud of it. While we have 600 Indigenous children on the school board, only 200 of them self-identify. There are another 400 people who are
Article content
Anishinaabe Algonquin children's author and Sixties Scoop survivor SP Joseph Lyons also spoke at Sunday's gala.
"What I decided to do on my journey was to reach out to children who are currently in foster care – Indigenous children who are separated from their communities and families. "I have written a series of books for indigenous children who live in the United States to give them hope and understanding that they did not have," Lyons said.
… The most important thing for an indigenous community is the community itself – all the people around us. And when we live in this colonial world, it's very different. people, your children, your nieces, nephews, aunts, uncles, all of them. They are your family, they have you, they know you. Belongs alone…and whatever you want to be is supported and guided by your community.
And what the Avon Maitland District School Board seeks to foster through events such as the Sunday Feast and the ongoing work of people like Dennis, Stevens and Park is a sense of community and the people around you. It is a feeling of being supported and loved.
gsimmons@postmedia.com