Southwest winds brought warm, moist air to New England on Tuesday. The afternoon will see a mix of sunshine and clouds, with highs expected to hit the low 80s to low 90s.
Warm and muggy conditions persist throughout the region overnight. The low only falls in his late 60s and early 70s. As the cold front approaches, nighttime showers and thunderstorms may occur, and some storms may bring strong winds and light hail. Another effect associated with these storms is sporadic heavy rainfall and poor drainage due to the presence of moist air masses.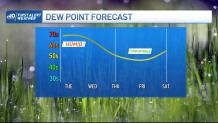 A mass-altering cold front will cross New England on Wednesday, drying the atmosphere and bringing cooler air to the region. Showers and thunderstorms are possible in the afternoon. Temperatures are expected to rise to mid-80s to mid-70s to mid-70s across the north.
Thursday will be drier, cooler and more pleasant as a pool of refreshing cold air passes overhead. Over 4,000 feet above the top of the Green and White Mountains, Thursday morning he dipped into the mid-30s to mid-30s, just in time for the first day of weather fall. The high temperature only rises from the mid-70s to both sides of the 80s.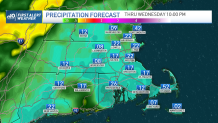 Friday will be similar, with pleasant weather and mild temperatures in the 70s and low to mid 60s in the north. This week will be the coolest as the wind changes from northwest to northeast. The urban area that straddles the Connecticut River Valley and the Merrimack Valley rises in his late '80s.
Labor Day weekend looks dry and comfortable, but each day is getting warmer and wetter. Heavy air return flows into New England. High temperatures will rise several degrees each day, reaching the high 80s on Saturday and the mid to high 80s on Sunday.
An approaching cold front increases the chance of rain Sunday through Monday in NBC10 Boston and NECN's exclusive first-alert weather 10-day forecast.