Michif artist Audie Murray will be the first artist in a new residency program launched by the City of Regina.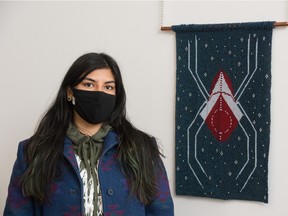 Article content
Regina-based artist Audie Murray was named the first Indigenous Artist in Residence in the City of Regina, launching a new cultural program launched earlier this year.
Article content
An open call for part-time residencies opened in June, inviting submissions of proposals to be considered for initial appointments. The city turned to an "expert panel of art experts" to make the final selection, which was announced Wednesday.
Article content
"The Indigenous Artists in Residence program celebrates and amplifies the voices of Indigenous artists and their artistic and cultural presence in our communities," the City of Regina said in a press release.
Murray, who was unable to be interviewed this week, is a visual artist at Misif who "explores contemporary culture, embodying experience and living duality" to restore physical autonomy for indigenous peoples. She works in multiple mediums, including sculpture, indigenous beadwork, and cultural tattoos using stick-and-poke and skin-stitch methods.
Article content
"These modes of work help reconstruct our collective connections to the body, our ancestral knowledge systems, and space and time," says the release.
During her residency, Murray explored the theme of 'Urban Nativeness' and the work she created will be added to the city's civic collections for the future.
In her proposal, Murray said she would use hand-bead weaving techniques to create large-scale beaded wall hangings.
She also curates community engagement programs, such as teaching beadwork workshops to local youth and working with local cultural leaders.
Murray graduated from Camosun College, the University of Regina, and the University of Calgary. She has participated in international exhibitions in the UK and US as well as across Canada.
Article content
Several pieces of Murray's work are currently included in a groundbreaking exhibition of contemporary Aboriginal beadwork titled 'Radical Stitches,' which is on display at the Mackenzie Art Gallery until September 25.
City of Regina Calls for First Indigenous Artist-in-Residence

Indigenous beadwork landmark collection opens at MacKenzie Art
News always seems to fly fast to us. From the latest on COVID-19, to politics and crime and everything in between, it can be hard to keep up.With that in mind, the Regina Leader-Post afternoon headlines A newsletter is delivered daily to your inbox to help you stay up to date with the most important news of the day. Click here to subscribe.