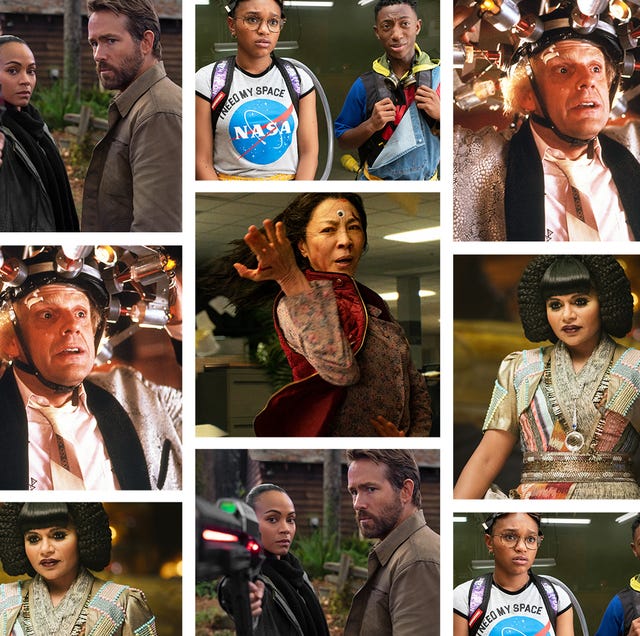 Courtesy of A24, Netflix, Disney, Getty Images
What would you do with the power to travel through time? Even though we're stuck in the present, humans can't stop dreaming about what we would do if we could change the past, tell the future, and influence our current reality. Luckily, the following cinematic masterpieces have done all the thinking for us. These movies showcase the challenges, pitfalls, and miracles that come with using time travel to change the course of history—if it was possible.
Add these titles to your watch list to awaken the time traveler within you. From Japanese animations to over-the-top comedies to dramas saturated with social commentary, these films all have one thing in common: They'll boggle your mind and make you think, while keeping you entertained. But remember, no matter how cool it looks to fly in a time-traveling spaceship, the present moment is and always will be the most important time there is.
Advertisement – Continue Reading Below
Back To The Future (1985)
This classic sets the scene for all time-travel movies that came after it. When 17-year-old high school student Marty McFly (Michael J. Fox) hops into in a time-traveling car invented by his scientist friend Doc (Christopher Lloyd), he is accidentally sent 30 years into the past. From the moment he lands in 1955, Marty just wants to get back to the future. So, he embarks on a hysterical adventure to ensure his teenage parents-to-be meet and fall in love so that he can get back to life as he knows it. There are two sequels to the film, Back to the Future Part II and Back to the Future Part III, all of which deserve their own plaque in the time travel movie hall of fame too.
Watch Now on Amazon Prime with AMC +
Avengers: End Game (2019)
The dramatic finale to The Infinity Saga (comprised of 23 movies in the Marvel Cinematic Universe), Avengers: Endgame pulls out all the stops. This epic showdown between the Avengers and Thanos uses newly discovered time travel technology to give the Earth's Mightiest Heroes a chance to win another battle. When Ant-Man (Paul Rudd) devises a time-bending strategy to gather all the Infinity stones, he enlists the help of Tony Stark (Robert Downey Jr.) to build a special device to time-jump. But with his new priorities as a family man, Tony is wary of altering history in any major way. So, instead of going back in time, they decide to bring back their fallen friends into their current timeline, five years later. Once reunited, the Avengers assemble to restore balance to the universe.
Watch Now on Disney+
Everything Everywhere All at Once (2022)
This surreal A24 sci-fi flick is a brilliant take on the multiverse. Teeming with enchanting visuals, the action film features a Chinese-American woman named Evelyn (Michelle Yeoh) who co-owns a little laundromat with her husband Waymond (Ke Huy Quan). She feels trapped in an unfulfilling marriage and is struggling to make ends meet. However, when she accidentally discovers the multiverse, she is granted an opportunity to reach her full potential. While a tale of time travel, EEAAO is ultimately a story of self discovery. Directors Daniel Scheinert and Daniel Kwan (collectively nicknamed "The Daniels") are the minds behind this epic inter-dimensional adventure, which brings to light the powers hidden within every individual. You may want to consider the advice of one viewer who said, "Don't do drugs, watch this instead."
Watch Now on Amazon
An amalgamation of time travel fantasy, political critique, and powerful family ties, See You Yesterday is a movie you don't want to miss. Produced by Spike Lee and directed by Stefon Bristol, who was taken under Professor Lee's wing while attending NYU's graduate film program, the story features two prestigious teenagers who spend all their spare time working on scientific inventions that eventually lead them to develop time travel technology. When her brother is caught in a fatal encounter with the police, Claudette "CJ" Walker (Eden Duncan-Smith) builds two time machines that can help her and her friend Sebastian (Danté Crichlow) change the series of events that lead to CJ's brother getting killed. But their experience leads them to time travel's greatest truth: All actions have a ripple effect that can change the present moment in unseen ways. The film critically engages with police brutality and was made by a team of creators of predominantly African descent to bring you this time-travel adventure that will leave you entertained, engaged, and inspired.
Watch Now on Netflix
Hot Tub Time Machine (2010)
Hot tubs have a good reputation for their steamy bubbles and even steamier memories. But what if they also doubled as time travel devices? This hilarious guilty-pleasure comedy features three pals who are caught in a rut in their adulthood, from being freshly dumped by a girlfriend, to being stuck in a dead-end job, to drinking away the sorrows of having accomplished absolutely nothing by the age of 40. Needless to say, these friends could all use a life upgrade. Luckily, when they venture into a magic hot tub at a winter resort, they accidentally travel back to 1986 and are given a second chance at life. Their tumultuous journey through the past leads them to be more conscious about the future. Plus, they have the opportunity to do a few things differently. When the hot tub teleports them back into the present day, each of them is better than they left off. Most hot tubs leave you feeling refreshed and rejuvenated, but this one took it to a whole other level.
Watch Now on Amazon Prime
The Girl Who Leapt Through Time (2006)
This Japanese animated film invokes the same striking visuals as Kiki's Delivery Service and Spirited Away, but features a time-traveling school girl with a big crush. After nearly dying in a head-on collision with a moving-train, Makoto Konno (voiced by Riisa Naka) learns she has gained the ability to leap through time. She uses this superpower to take naps, study for tests, and replay her heart-fluttering encounter with a fellow classmate. This sweet, moving, and inspiring time travel tale is a love story that is filled plot twists and a surprising ending. It goes to show that trying to change the future never ends up how you think it will. But is it still worth the effort?
Watch Now on Amazon Prime
Featuring a troubled teenager played by a young Jake Gyllenhaal, Donnie Darko takes place in an alternative reality known as "The Tangent Universe." This parallel universe has the potential to end the world as we know it, unless someone stops it. This someone happens to be Donnie Darko. After barely escaping a bizarre accident, he has visions of a man in a large rabbit suit that only he can see. This imaginary friend guides him through the tangent universe, encourages him to commit a series of crimes, and ends up triggering a chain of supernatural events. Richard Kelly is the director behind this cult classic that, despite its famously low production budget, continues to have a place in the hearts of viewers of all ages.
Watch Now on Amazon
Watch Now on HBO Max
Harry Potter and the Prisoner of Azkaban (2004)
The third installment of the franchise based on the best-selling books by J.K. Rowling, Harry Potter and the Prisoner of Azkaban has the teenage wizards navigating a new kind of magic: time travel. When Harry, Ron, and Hermione come across a magic gadget called "the time turner," they use the newfound power to jump back in time to save Sirius Black and escape the Dementors. However, they must be careful to exactly reenact the actions that they did in the past. Directed by Alfonso Cuarón (Gravity, Children of Men), this film combines mystery and magic for arguably one of the greatest Harry Potter movies ever made.
Watch Now on HBO Max
This sci-fi thriller, directed by Duncan Jones and featuring Jake Gyllenhaal and Michelle Monaghan, has a new take on the time loop formula. After waking up in someone else's body, helicopter pilot Colter Stevens (Gyllenhaal) discovers he is part of an experimental government mission to find the bomber of a commuter train. He is only given eight minutes to solve the problem until his time starts over again. As he relives the deadly collision over and over, Colter finds new pieces to the puzzle and believes he can solve the crime—that is, as long as the clock doesn't run out.
Watch Now on Amazon Prime
A Brief History of Time Travel (2019)
This documentary gives an overview of how time travel has been discussed and portrayed throughout history. Featuring interviews with experts across a variety of fields, A Brief History of Time Travel is an independent film that explores how time travel has inspired some of the most prominent intellectual minds we have today, and how their work would not be the same without it. The documentary can serve as a teaching and research tool for mathematics, physics, computer science, and so much more. Embark on a journey through the evolution of time travel with this groundbreaking film, from its origins and influence in the science fiction genre to the exciting possibilities technology has yet to uncover.
Watch Now Via Digital Download
One day in New Orleans, hundreds of lives are lost in a horrific ferry explosion. An ATG agent named Doug (played by Denzel Washington) is sent on a top-secret mission to try to prevent the crime by a government lab that uses special time shifting technology. Once Doug uses the tech to try and identify the bomber, he soon finds himself becoming more and more infatuated with one of the victims. Will Doug discover who the bomber is, or will his new obsession derail the mission? This action-packed movie was set to be filmed just a few weeks before Hurricane Katrina left New Orleans unrecognizable. Rather than canceling the movie altogether, the team decided to wait and finally resumed pre-production three months after the natural disaster.
Watch Deja Vu Now
Meet the Robinsons (2008)
Meet the Robinsons is Disney's animated family-friendly adventure that is best described as a mix of The Incredibles and Back to the Future. A 12-year-old orphan named Lewis (voiced by Jordan Fry) invents a memory scanning device in the hopes of finding out why his mother put him up for adoption. However, an evil villain known as the Bowler Hat Guy steals his creation and throws Lewis for a loop. Luckily, a mysterious stranger named Wilbur Robinson whisks Lewis away in his time machine to track down the culprit, find the scanner, and learn the truth about his mom. This enchanting tale speaks to the importance of family and the very fabric that makes us who we are.
Watch Now on Disney+
What if 12-year-old you accidentally discovered grown-up you outside your backyard? This is what happens in Shawn Levy's The Adam Project. When time-traveling fighter pilot Adam Reede (Ryan Reynolds) crash-lands in the past, he and his younger self embark on a mission to save the world. They battle time-traveling villains, discover family secrets, and try to save Adam's true love, Laura (Zoe Saldana). Turns out saving the world is much harder than they'd imagined. This fun, humorous, and action-packed tale will have you imagining what you would tell your younger self if you accidentally crossed paths.
Watch Now on Netflix
When two wedding guests get stuck in a time loop in Palm Springs California, a witty romance story unfolds. Featuring Andy Samberg (The Lonely Island, Saturday Night Live) and Cristin Milioti (The Wolf of Wall Street, How I Met Your Mother), this time travel comedy will make you laugh and cry and leave you wanting more. When the pair finds themselves forced to re-live the same day over and over again, they devise new ways to try to break the loop, and end up having some fun in the process. In an interview, Samberg reveals that multiple endings for Palm Springs were written and even shot. The production team held family and friend screenings where they played each alternate ending, and had their guests tell them which option they liked best.
Watch Now on Hulu
Directed by Ava DuVernay and featuring a star-studded cast including Oprah Winfrey, Storm Reid, Reese Witherspoon, and Mindy Kaling, A Wrinkle in Time uses time travel to expose important wisdoms about what it means to be a leader. After the death of her father, Meg (Reid) joins forces with her brother, friend, and three otherworldly beings named Mrs. Whatsit, Mrs. Who, and Mrs. Which to venture across the universe and rescue Meg's dad from an evil force. This family-friendly adventure travels to new dimensions to bring you a heart-warming tale filled with magic.
Watch Now on Disney+
Anatola Araba
Anatola is a writer, filmmaker, and futurist from New York City.
Advertisement – Continue Reading Below